A Bittersweet Ho-yo-yo Date Special! is the 48th chapter of the Dr. Slump manga.
Summary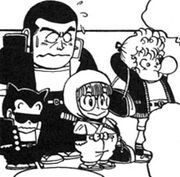 While walking in the streets after school, Arale Norimaki and Akane Kimidori meet two bullies. The taller one falls in love with Arale. Remebering Senbei Norimaki's explanation of a date in "The Happy Doctor", Arale takes the bully's hand and runs at high speed, sending him into a pole. After this, the bully suggests they rather go to the movie. At the Penguin Village Movie Theater, Akane suggests a movie which is in fact an erotic movie. There, they meet Senbei. After Senbei scolds them, he, Arale, Akane and the two bullies go to the restaurant. While hungry, the tall bully does not eat because Arale is not hungry, as she is an android, and does not eat. After the date, Senbei asks Akane who the boy was. Akane decides to play a joke to Senbei and tells that the boy is Midori Yamabuki's little brother.
Ad blocker interference detected!
Wikia is a free-to-use site that makes money from advertising. We have a modified experience for viewers using ad blockers

Wikia is not accessible if you've made further modifications. Remove the custom ad blocker rule(s) and the page will load as expected.