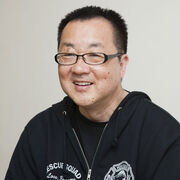 Akira Sakuma (さくまあきら; born on July 29, 1952, in Suginami, Tokyo) is a Japanese video game designer best known as the creator of the Momotaro Dentetsu series. The Dr. Slump character Makusa is based on him.
Biography
Akira Sakuma graduated from Rikkyo University and Kazuo Koike's Gekika Sonjuku. His father was an engineer at Nissan, and later owned a toy store. Due to the stroke in 90s, he carries a handicap in his left side of his body. He is also diagnosed with a Carpal tunnel syndrome.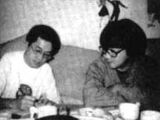 Sakuma considers Koichi Sugiyama and Kazuo Koike as his mentors. He works as a freelance writer for books, magazines, newspapers, and comics. He has co-authored Hetappi Manga Kenkyūjo with Akira Toriyama, as well as other works with Yuji Horii. Sakuma is also notable as the creator and the director of Jump Broadcast Station for Weekly Shōnen Jump between 1982 and 1995. Sakuma also has released an album, and has been a singer and a song writer. Akira Sakuma has influenced many X and Y generations young creators, writers, manga artists, and comedians.
Gallery
External links
Ad blocker interference detected!
Wikia is a free-to-use site that makes money from advertising. We have a modified experience for viewers using ad blockers

Wikia is not accessible if you've made further modifications. Remove the custom ad blocker rule(s) and the page will load as expected.