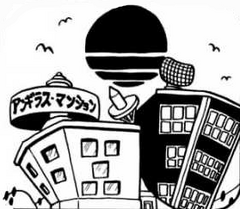 Anguirus Apartments is the residence where lives Midori Yamabuki. It is located on the northern part of Penguin Village, north of the Coffee Pot and east of Hiyoko's House.
Overview
The residence is first shown in "Sad, Sad Santa", when Senbei Norimaki goes there to give his autograph to Midori while disguised a Santa Claus.
It is next seen in "The Great Arale-Eye Caper: Part 2", when Senbei sends Arale Norimaki and Gatchan to Midori's apartment to have a bath, in order to see her naked via the Arale-Eye Caper.
In the future, Taro Soramame and Tsururin Tsun are married and live in an apartment here.
Residents
Video Games
Ad blocker interference detected!
Wikia is a free-to-use site that makes money from advertising. We have a modified experience for viewers using ad blockers

Wikia is not accessible if you've made further modifications. Remove the custom ad blocker rule(s) and the page will load as expected.