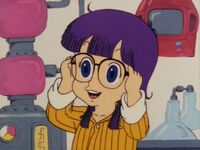 Arale's glasses (アラレのメガネ) are what can make Arale Norimaki see clearly. She first gets them in "The Birth of Arale" after Senbei Norimaki finds out that she is near-sighted. Removing them are one of her few weaknesses. One of the bonus in the Dr. Slump Tankōbon volumes is a paper version of Arale's glasses. The page the glasses must be cut has the sentece "Even if you have an ugly face, with these glasses you are always cute."
Gallery
Ad blocker interference detected!
Wikia is a free-to-use site that makes money from advertising. We have a modified experience for viewers using ad blockers

Wikia is not accessible if you've made further modifications. Remove the custom ad blocker rule(s) and the page will load as expected.