Barber Shop Panic: Part 1

Chapter Details

Chapter #:
23
Volume:
2
Kanzenban Volume:
2
Kanji Title:
パニックイン散髪屋の巻 Part 1
Rōmaji Title:
Panikku In Bābā no Maki Pāto Wan
Translated Title:
Panic in the Barbershop, Part 1
Release Date:
03 June 1980 (Weekly Shōnen Jump 1980 #27)
English Release:
Original Anime Adaptation:
Remake Anime Adaptation:

Chapter Chronology

Previous:
The Story of Donbe
Next:
Barber Shop Panic: Part 2
Barber Shop Panic: Part 1 is the 23rd chapter of the Dr. Slump manga. Its sequel is "Barber Shop Panic: Part 2".
Summary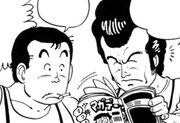 The Bank Robber enters the Soramame Barber Shop while Kurikinton Soramame and Senbei Norimaki are playing at a Boxe Game. Soon the Penguin Village Police Force arrives. The Bank Robber realizes that Arale Norimaki and Gatchan are in the house and flee. But Gyaosu asks to return to the Barber Shop.
Ad blocker interference detected!
Wikia is a free-to-use site that makes money from advertising. We have a modified experience for viewers using ad blockers

Wikia is not accessible if you've made further modifications. Remove the custom ad blocker rule(s) and the page will load as expected.