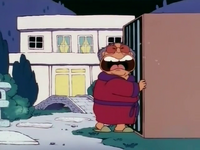 Beary Manor is a mansion in Penguin Village owned by the Bear's Owner and was where the Bear was being held captive before Arale Norimaki set him free. The mansion appears in the Dr. Slump and Arale-chan episode "My Friend, Mr. Bear!!". The mansion itself does not appear in the manga version "Bearly Friends!" but only the outside gate and cage are shown.
Ad blocker interference detected!
Wikia is a free-to-use site that makes money from advertising. We have a modified experience for viewers using ad blockers

Wikia is not accessible if you've made further modifications. Remove the custom ad blocker rule(s) and the page will load as expected.