Big Boss
Gender

Male

Race

Human

Debuts

Manga
Anime
Big Boss is the name the top bully in Penguin Village goes by. He has a small follower.
Appearance
He has a very gorilla-like appearance which he doesn't like to have pointed out.
History
The Birth of Arale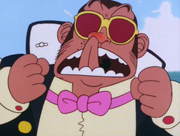 Main article: Volume 1: The Birth of Arale
In Arale is Akane!?, big boss and his follower comes across Arale who was disguised as Akane at the time and gets called a gorilla by her. As he tries to intimidate her, he gets frightened instead when Arale takes her head off. After Arale fails to imitate his "Pick-And-Lick", she accidentally punches him into the sky hitting a plane and falling back into the ground. The next morning after Arale and Akane switch back to their respective identities, the real Akane is confused when she is politely greeted at the gate of Penguin Village Middle School by the Big Boss and his assistant.
Special Abilities
Pick-And-Lick - The ability to pick his nose with his tongue.
Voice Actors
1980's Show Latin Dub: Alfonso Ramirez.
1997s Show Latin Dub: Enrique Mederos.
Ad blocker interference detected!
Wikia is a free-to-use site that makes money from advertising. We have a modified experience for viewers using ad blockers

Wikia is not accessible if you've made further modifications. Remove the custom ad blocker rule(s) and the page will load as expected.