Caramel Man 001
Kanji

キャラメルマン1号

Rōmaji

Kyarameru Man Ichi-gō

Gender

Male

Race

Debuts

Manga
Caramel Man 001 (キャラメルマン1号) is Dr. Mashirito's creation. Caramel Man 001 was his first try at world domination.
Appearance
Caramel Man 001 is a fairly large robot with a head of Astro Boy. It runs on batteries, and needs a human operator inside of it.
History
Dr. Mashirito's Ambition
Main article: Volume 6: Dr. Mashirito's Ambition


The robot was built by Dr. Mashirito to wreak havoc on Earth, and it can break the Earth with a punch. After learning that Arale Norimaki was stronger than his creation, Dr. Mashirito went to Penguin Village where his robot was indeed easily beaten by Arale. When Mashirito quickly got out of the robot to try to steal Arale's glasses, Caramel Man 001 was eaten by Gatchan.
Grand Finale! Invention Explosion!
Main article: Volume 18: Grand Finale! Invention Explosion!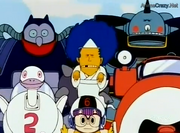 He ends up being rebuilt and makes an appearance in the finale alongside the other defeated Caramel Man and the ghost of Dr. Mashirito.
Other Media
Dr. Slump films
Hoyoyo! Space Adventure
A giant version of Caramel Man 001 is used by Dr. Mashirito in the films final battle and is defeated by Arale.
Video Games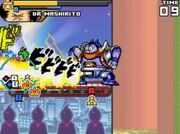 Merchandise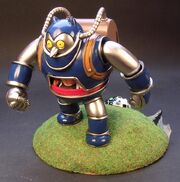 Caramel Man 001 was made into a figure.
Trivia
It has super strength and capable of punching the Earth into Mars and can comically withstand being smashed into Venus. It can also punch that makes a small fissure in the ground similar looking to Arale's Earth-Splitter but not as large scale.
Gallery
Ad blocker interference detected!
Wikia is a free-to-use site that makes money from advertising. We have a modified experience for viewers using ad blockers

Wikia is not accessible if you've made further modifications. Remove the custom ad blocker rule(s) and the page will load as expected.