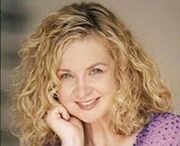 Cheryl Chase (シェリル·チェイス) is an (born Cheryl Hudock in December 25, 1958) is an American voice actress. She was the voice for Arale in the short lived Harmony Gold Dub as well as the voice for Puar in Harmony Gold's version of Dragon Ball. Her most notable voice role is for Angelica Pickles on the Nickelodeon cartoon series, Rugrats.
Ad blocker interference detected!
Wikia is a free-to-use site that makes money from advertising. We have a modified experience for viewers using ad blockers

Wikia is not accessible if you've made further modifications. Remove the custom ad blocker rule(s) and the page will load as expected.