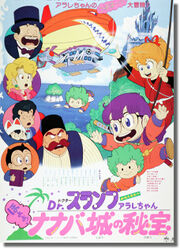 Dr. Slump and Arale-chan: Hoyoyo! The Treasure of Nanaba Castle (Dr.スランプ アラレちゃん ほよよ!ナナバ城の秘宝, Dr. Slump & Arale-chan Hoyoyo! Nanaba Shiro no Hihou) is the fourth Dr. Slump film, and the fourth film of the theatrical films series. It was released on December 22, 1984.
Plot
Senbei Norimaki finds the secret treasure named "Eye of Rainbow" of the legendary Nanaba Castle in the mountain. This treasure makes every dream come true. When the gang of Arale Norimaki and Gatchan tried to steal the treasure, Bisna, who is the descendant of Nanaba Kingdom, takes the treasure. Bisna wants to revive the devil and Nanaba Kingdom. Arale and her friends went towards the secret Nanaba Castle to get back the treasure.
Ad blocker interference detected!
Wikia is a free-to-use site that makes money from advertising. We have a modified experience for viewers using ad blockers

Wikia is not accessible if you've made further modifications. Remove the custom ad blocker rule(s) and the page will load as expected.