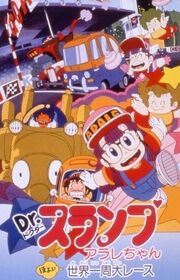 Dr. Slump and Arale-chan: Hoyoyo, Great Round-the-World Race (Dr.スランプ アラレちゃん ほよよ世界一周大レース, Dr. Slump & Arale-chan Hoyoyo! Sekai Issuu Dai Race) is the third Dr. Slump film, and the third film of the theatrical films series. It was released on March 13, 1983.
Ad blocker interference detected!
Wikia is a free-to-use site that makes money from advertising. We have a modified experience for viewers using ad blockers

Wikia is not accessible if you've made further modifications. Remove the custom ad blocker rule(s) and the page will load as expected.