Dr. Slump and Arale-chan: N-cha! Penguin Village is Swelling Then Fair (Dr.スランプ アラレちゃん んちゃ!ペンギン村はハレのち晴れ, Dr. Slump & Arale-chan Ncha! Pengin-mura wa Hare nochi Hare) is the sixth animated film based off of the Dr. Slump and Arale-chan anime series. It was released on March 6th, 1993.
Overview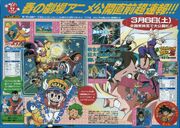 This film serves as a reboot to the anime series, that lasts until the 9th film Dr. Slump and Arale-chan: N-cha!! Trembling Heart of the Summer, before the Dr. Slump remake. The story retells the events of Arale Norimaki's creation and her battle with Dodongadon, which leads to the introduction of Dodongadon's mother Mamangadon. Though Gatchan is in the movie, its birth is not shown.
Ad blocker interference detected!
Wikia is a free-to-use site that makes money from advertising. We have a modified experience for viewers using ad blockers

Wikia is not accessible if you've made further modifications. Remove the custom ad blocker rule(s) and the page will load as expected.