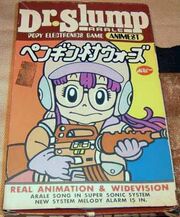 Dr. Slump Penguin Village is a series of three handheld games based on the Dr. Slump series. They were developed by Animest (Popy Electronics), and released in Japan in 1982. The three games are very similar to Game & Watch games, like the Dr. Slump Arale games.
Dr. Slump Penguin Village: Kaiju Asobo
A vertical scrolling game in which Senbei Norimaki travels on board of the Time Slipper.
Dr. Slump Penguin Village: Oha Konban Chiwa
King Nikochan and his servant are featured in this game.
Dr. Slump Penguin Village: Wars
The heroes confront the invaders.
Gallery
Ad blocker interference detected!
Wikia is a free-to-use site that makes money from advertising. We have a modified experience for viewers using ad blockers

Wikia is not accessible if you've made further modifications. Remove the custom ad blocker rule(s) and the page will load as expected.