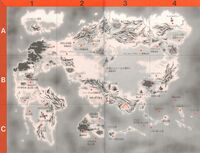 Earth, commonly known as Dragon World, is the main setting to Dr. Slump, as well as other works by Akira Toriyama, which are Wonder Island, Dragon Ball, Dragon Ball Z, Dragon Ball GT and Neko Majin.
Locations on Earth
Real World Locations Referenced in Dr. Slump
In the first episode of Dr. Slump, Arale throws a baseball and it flies around the world, showing the ball pass many real world places such as Japan, Egypt, America and the Arctic.
Ad blocker interference detected!
Wikia is a free-to-use site that makes money from advertising. We have a modified experience for viewers using ad blockers

Wikia is not accessible if you've made further modifications. Remove the custom ad blocker rule(s) and the page will load as expected.