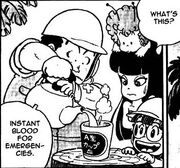 Emergency Insta-Blood (緊急不安定血) is a cup a of emergency blood for travels. It is first seen in "Hello, Wonder Land".
Overview
Senbei Norimaki gives the blood to the Wonder Island Vampire after she attacked when he asks her where Ogre-king Gyaska is. She tells him if he gives her blood, she will tell him where Ogre-king Gyaska is.
Ad blocker interference detected!
Wikia is a free-to-use site that makes money from advertising. We have a modified experience for viewers using ad blockers

Wikia is not accessible if you've made further modifications. Remove the custom ad blocker rule(s) and the page will load as expected.