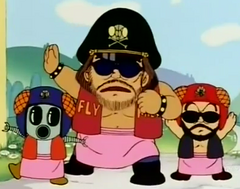 Fly Milk is a motorcycle gang that appears in the chapter "Riders at Dawn". They hang in a bar called Fly Milk, and their rivals are the Mosquito Milk gang.
Overview
Fly Milk delivers milk in Penguin Village. There are three members in the gang: the leader, a member who looks like Tori-bot, and a short member who looks like the boss. Arale Norimaki and Gatchan briefly join the gang. They leave after witnessing that the Fly Milk are not that bad, confronting their rivals, the Mosquito Milk, by playing at several different games instead of actually fighting.
The ganf briefly appears in "Penguin Village Dom-Dom-Dom!", and the boss is seen among the Penguin Village residents running after Arale and Gatchan.
Gallery
Ad blocker interference detected!
Wikia is a free-to-use site that makes money from advertising. We have a modified experience for viewers using ad blockers

Wikia is not accessible if you've made further modifications. Remove the custom ad blocker rule(s) and the page will load as expected.