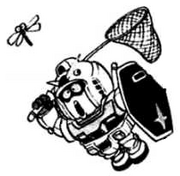 A Gundam is a giant robot from the Mobile Suit Gundam anime series, which was created in 1979. A Gundam makes an appearance flying above the Norimaki Residence in the Dr. Slump chapter "Chivil's Work". It is later mentioned by Musashi Miyamoto in the chapter "Kojiro Is Waiting: Part 1", and the chief of the invaders plays with a Gundam mask in the chapter "The Biggest Bye'cha of All: Part Two".
Ad blocker interference detected!
Wikia is a free-to-use site that makes money from advertising. We have a modified experience for viewers using ad blockers

Wikia is not accessible if you've made further modifications. Remove the custom ad blocker rule(s) and the page will load as expected.