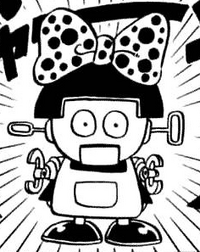 Hanako (花子) is a "super robot" created by Dr. Umashika.
Overview
Although, Hanako was first considered a masterpiece, she quite pathetic since she talked and walked like an electronic toy. The only things she can say are "Krrrr... I am Hanako..." and "Krrrr... good day... krrrrr..." Hanako first made a sensation, mainly because of the charisma of its creator. Yet, the robot and its creator are kicked out of the Metropolis Island TV studio after the host saw Mecha Senbei, the invention Senbei Norimaki brought.[1]
Trivia
References
Ad blocker interference detected!
Wikia is a free-to-use site that makes money from advertising. We have a modified experience for viewers using ad blockers

Wikia is not accessible if you've made further modifications. Remove the custom ad blocker rule(s) and the page will load as expected.