Here Comes Arale!
is the second chapter to the
Dr. Slump manga series
. It was first published together with the first chapter in 
Weekly Shonen Jump
1980 #5/6, because the first chapter was too short for a 
Jump
series premiere.
Cover
The cover features Arale playing with remote controlled toys of Senbei, Akane, Taro and Peasuke.
Summary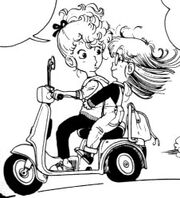 Arale Norimaki ends up starting her first day at Penguin Village Junior High with Midori Yamabuki being her teacher. While at school, Arale is seated next to Akane Kimidori who gets annoyed with Arale. Outside, Senbei Norimaki ends up taking Aoi Kimidori to the movies to see "Nekotoraman vs. Nekotora-7". During school, the teachers are amazed with Arale's intellectual and physical abilities. After school is over, Arale follows Akane to her other friends Taro Soramame and Peasuke Soramame. Taro gains respect for Arale when he sees that she is really strong and allows her to come with them. They are soon pulled over by Gala and Pagos. Senbei gets a call from the police to pick up Arale and her friends.
Appearances
Characters
Locations