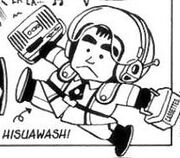 Hisashi Tanaka (田中久志; born in April 1959) is a Japanese illustrator. He is well known for having been Akira Toriyama's very first assistant.
Biography
Hisashi Tanaka worked with Toriyama for the first half of Dr. Slump until 1982, under the pseudonym Hiswashi (ひすゎし).[1] He is also the author of several manga series, such as CAN☆Eburidei (5 volumes), Ninja Boy DonDon Tobimaru (7 volumes), Radical 16 (2 volumes), Da chikan (2 volumes), Mabo-chan DAY BY DAY (8 volumes), and Kamome-chō Yūnagi Tayori Chinden (2 volumes). Tanaka currently teaches art design at Ogaki Woman's College in Gifu Prefecture.
Gallery
References
External links
Ad blocker interference detected!
Wikia is a free-to-use site that makes money from advertising. We have a modified experience for viewers using ad blockers

Wikia is not accessible if you've made further modifications. Remove the custom ad blocker rule(s) and the page will load as expected.