Is It a Girl? Is It a Boy!?

Chapter Details

Chapter #:
12
Volume:
1
Kanzenban Volume:
1
Kanji Title:
男の子!? 女の子!?の巻
Rōmaji Title:
Otoko no ko!? Onna no ko!?
Translated Title:
A Boy!? A Girl!?
Release Date:
1980
English Release:
Original Anime Adaptation:
Huh?! Is it a Boy? Is it a Girl?
Remake Anime Adaptation:

Chapter Chronology

Previous:
The Mysterious Egg
Next:
Arale Flies the Skies!
Is It a Girl? Is It a Boy!?
is the 12th chapter of the
Dr. Slump manga
.
Summary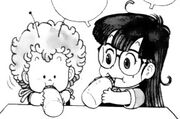 The first days with Gatchan in the Norimaki Residence. It is revealed that Gatchan can eat everything, and that Gatchan can survive falling from very hight height. While giving him a bath, it is shown that Gatchan has wings. Arale Norimaki thinks Gatchan is a girl, but Senbei Norimaki is not sure of this. Gatchan is an angel.