Is It a Girl? Is It a Boy!? is the 12th chapter of the Dr. Slump manga.
Summary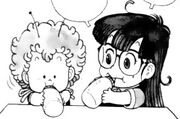 The first days with Gatchan in the Norimaki Residence. It is revealed that Gatchan can eat everything, and that Gatchan can survive falling from very hight height. While giving him a bath, it is shown that Gatchan has wings. Arale Norimaki thinks Gatchan is a girl, but Senbei Norimaki is not sure of this. Gatchan is an angel.
Ad blocker interference detected!
Wikia is a free-to-use site that makes money from advertising. We have a modified experience for viewers using ad blockers

Wikia is not accessible if you've made further modifications. Remove the custom ad blocker rule(s) and the page will load as expected.