Kick the Can

Chapter Details

Chapter #:
51
Volume:
4
Kanzenban Volume:
4
Kanji Title:
Rōmaji Title:
Translated Title:
Release Date:
English Release:
Original Anime Adaptation:
Remake Anime Adaptation:

Chapter Chronology

Previous:
Sad, Sad Santa
Next:
Untouchable
Kick the Can is the 51st chapter of the Dr. Slump manga.
Summary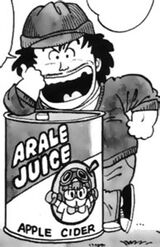 Akira Toriyama organizes a contest in which the winner will have a wish granted. Senbei Norimaki is the one who will have to retrieve the can, and Arale Norimaki is the one who will kick it. Using his Speed 2 vehicle, Senbei retrieves the can in a desert. He has now to find all the villagers of Penguin Village. He finds everyboby but Arale and Gatchan, who were hiding in outer space. The two kids win the game and wish Toriyama to become older. Not wanting to grant this wish, Toriyama changes it and makes them want lollipops instead.
Gallery
Ad blocker interference detected!
Wikia is a free-to-use site that makes money from advertising. We have a modified experience for viewers using ad blockers

Wikia is not accessible if you've made further modifications. Remove the custom ad blocker rule(s) and the page will load as expected.