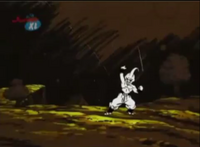 Kid Buu appeared in the Dr. Slump remake for a short period of time. He appears due to Arale Norimaki putting the last volume of the Dragon Ball manga, "Goodbye, Dragon World", into Senbei's Reality Machine, and is seen dodging Goku's Kamehameha. His appearance is white and black due to him being created from the the Dragon Ball manga.
External links
Ad blocker interference detected!
Wikia is a free-to-use site that makes money from advertising. We have a modified experience for viewers using ad blockers

Wikia is not accessible if you've made further modifications. Remove the custom ad blocker rule(s) and the page will load as expected.