Kinnikuman
Gender

Male

Race
Date of birth

1st of Crucian Carp, 1960

Debuts

Manga
Kinnikuman, also known as Kinniku Suguru, is a wrestler who is the main character in the Weekly Shōnen Jump manga Kinnikuman that works as a cashier at the Penguin Village Movie Theater.
History
The Birth of Arale
Main article: Volume 1: The Birth of Arale
In Here Comes Arale!, he is seen in the theater's ticket window while Aoi Kimidori and Senbei Norimaki are getting ready to see Nekotoraman vs. Nekotora-7.
Other Media
Video Games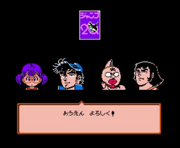 Kinnikuman from his own series appears in the video games Famicom Jump: Hero Retsuden and Jump Ultimate Stars as a playable character alongside Dr. Slump and Dragon Ball characters.
External Links