Kinoko on the Loose is the 57th chapter of the Dr. Slump manga. Its anime counterpart is "Kinoko on the Loose".
Plot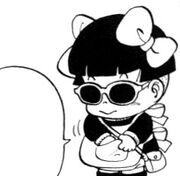 Srping comes to Penguin Village. At the Sarada Residence, Kinoko Sarada decides to become a delinquent because her father ate the straberry on the cake she was eating.
Ad blocker interference detected!
Wikia is a free-to-use site that makes money from advertising. We have a modified experience for viewers using ad blockers

Wikia is not accessible if you've made further modifications. Remove the custom ad blocker rule(s) and the page will load as expected.