Kurikinton Soramame is the father of Taro and Peasuke, and the barber of Penguin Village. He is also good friends with Senbei Norimaki.
Appearances
Dragon Ball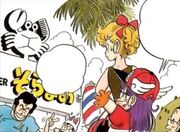 In the Dragon Ball manga, Kurikinton Soramame is shown outside of his barber shop making a peace sign. He is shown to be very good with a gun.
Dr. Slump remake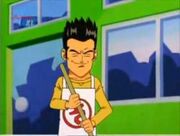 In the 1997 remake of Dr. Slump, his hair is changed to be spiky. When the Red Ribbon Army is in town General Blue fell into Kurikinton's shop into one of the seats and General Blue unwillingly has his hair cut into a mohawk.
Video game appearance
Voice actors
Japanese voice: Kouji Totani (1980's series)
Japanese voice: Nobuaki Kanemitsu (1997 series)
Roberto Mendiola (Latin Dub - Both series)
Trivia
Kurikinton Soramame has a design similar to that of the main character in Akira Toriyama's second manga, Mysterious Rain Jack (1978).
Kurikinton is shown in the Dragon Ball manga, but not the Dragon Ball anime.
Kurikinton looks like Clint Eastwood's character Harry Callahan in the movie Dirty Harry.
Gallery