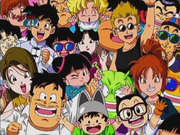 This is a list of all the characters that have appeared in the Dr. Slump series.
Earthlings
Penguin Village
Norimaki Residence
Kimidori Family
Soramame Family
Tsun Family
Sarada Family
Penguin Village Police Force
Penguin Village Middle School
Penguin Village High School
Mashirito Army
Other Residents
Wildlife
Poop
Toriyama
Metropolis Island
Wonder Island
Other Earthlings
Sky Ogres
Time Travel
Space
Otherworld
Ad blocker interference detected!
Wikia is a free-to-use site that makes money from advertising. We have a modified experience for viewers using ad blockers

Wikia is not accessible if you've made further modifications. Remove the custom ad blocker rule(s) and the page will load as expected.