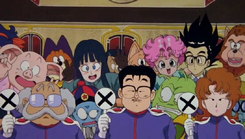 Lunch (ランチ), spelled Launch in the Funimation dub of Dragon Ball, is a woman with a split personality from the Dragon Ball series. She is a kind-hearted woman with dark blue hair, although everytime she sneezes, she turns into an angry, trigger-happy blond woman. The only appearance she makes in the Dr. Slump franchise is in Dr. Slump and Arale-chan: N-cha! Love Comes From Penguin Village in a crowd.
External links
Ad blocker interference detected!
Wikia is a free-to-use site that makes money from advertising. We have a modified experience for viewers using ad blockers

Wikia is not accessible if you've made further modifications. Remove the custom ad blocker rule(s) and the page will load as expected.