Mame Soramame (空豆まめ) is the older sister of Murasaki Kimidori and the wife of Kurikinton Soramame. She is also the mother of Taro and Peasuke, who wears an animal cap like her.
Biography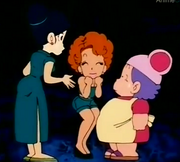 Mame Soramame is first mentioned in Taro's resume and makes her first physical appearance in the chapter "Sad, Sad Santa", where she is seen next to her husband and sons who are shooting and throwing stuff at Senbei disguised as Santa Claus. She makes minor appearances in the chapters "A Silent Night's Dream", "Witchy Gone Wild", and "Penguin Village Dom-Dom-Dom!".
References
Ad blocker interference detected!
Wikia is a free-to-use site that makes money from advertising. We have a modified experience for viewers using ad blockers

Wikia is not accessible if you've made further modifications. Remove the custom ad blocker rule(s) and the page will load as expected.