Mammoth Midori: Part 1 is the 88th chapter of the Dr. Slump manga. Its sequel is "Mammoth Midori: Part 2".
Summary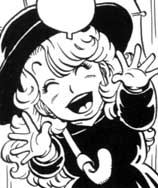 Midori falls ill when a mosquito flies into her mouth during her sleep. Senbei Norimaki, Arale Norimaki and Gatchan find Midori at the hospital, and the only way to save her is to get the mosquito out themselves.
Ad blocker interference detected!
Wikia is a free-to-use site that makes money from advertising. We have a modified experience for viewers using ad blockers

Wikia is not accessible if you've made further modifications. Remove the custom ad blocker rule(s) and the page will load as expected.