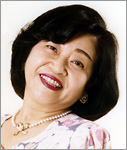 Mariko Mukai (向井 真理子; born on October 13, 1937) is a Japanese voice actress from Tokyo. She is the seiyū of Midori Norimaki, Mrs. Brief, and Princess Snake. She was the Japanese dub voice of Marilyn Monroe and Betty Boop before Dr. Slump.
External links
Ad blocker interference detected!
Wikia is a free-to-use site that makes money from advertising. We have a modified experience for viewers using ad blockers

Wikia is not accessible if you've made further modifications. Remove the custom ad blocker rule(s) and the page will load as expected.