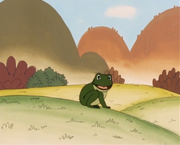 Mi-chan is a giant talking frog in Penguin Village that is friends with Arale Norimaki.
History
Dr. Mashirito's Ambition
Main article: Volume 6: Dr. Mashirito's Ambition
She appears in Little Cat Riding Hood playing the role of the grandma in Akane Kimidori's movie of the story. Taro Soramame who was playing the wolf injects her with a anesthetic and drags her sleeping body into the bushes.
Ad blocker interference detected!
Wikia is a free-to-use site that makes money from advertising. We have a modified experience for viewers using ad blockers

Wikia is not accessible if you've made further modifications. Remove the custom ad blocker rule(s) and the page will load as expected.