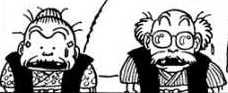 Momotaro's Grandparents are the presumably adopted grandmother and grandfather of Momotaro that reside in the story Momotaro The Peach Boy.
Biography
They waited for him at their house while Momotaro went on his journey to fight the ogres on Ogre Island. Since Arale brought Momotaro into the real world with the Fairy Tale Machine, Momotaro never returned to them and they were left waiting for him at home at the end of Dr. Slump chapter 34, "The Fairy Tale Machine".
Ad blocker interference detected!
Wikia is a free-to-use site that makes money from advertising. We have a modified experience for viewers using ad blockers

Wikia is not accessible if you've made further modifications. Remove the custom ad blocker rule(s) and the page will load as expected.