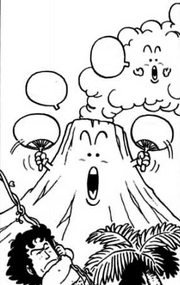 Mount FlapFlap is a living volcano on Gengoro Island. It is located on the west part of Penguin Village.
Overview
When Chivil cames out of it riding Taxi Dragon, the volcano asks who he is. The boy responds that he is a demon, leaving the volcano amazed.[1] Chivil came out of the volcano to Penguin Village in order to kill people and earn money selling their souls.
Video Games
References
Ad blocker interference detected!
Wikia is a free-to-use site that makes money from advertising. We have a modified experience for viewers using ad blockers

Wikia is not accessible if you've made further modifications. Remove the custom ad blocker rule(s) and the page will load as expected.