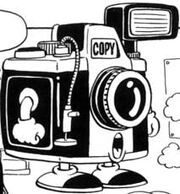 Mr. Copy is a camera created by Senbei Norimaki. It allows the user to create several copies of them. It appears in the chapter titled "Mr. Copy".
Overview
Senbei creates Mr. Copy when he promises Arale Norimaki and Gatchan that he will take them to the amusement park, and then receives an invitation from Midori Yamabuki to go to the cinema the same day. While arguing with his clone over who will go to the cinema with Midori, Arale and Gatchan uses the manchine and the Norimaki Residence ends invaded with hundreds of Arale and Gatchan.
Ad blocker interference detected!
Wikia is a free-to-use site that makes money from advertising. We have a modified experience for viewers using ad blockers

Wikia is not accessible if you've made further modifications. Remove the custom ad blocker rule(s) and the page will load as expected.