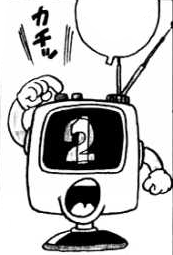 Mr. Video (ビデオくん, Video-kun) is a living video player created by Senbei Norimaki. It appears in "Hello, Wonder Island" and its film adaptation Dr. Slump and Arale-chan: Hello! Wonder Island when Senbei finds his father's video tape in his porno magazines. Mr. Video is destroyed hortly later, when the tape of Senbei's father self destructed.
Gallery
Ad blocker interference detected!
Wikia is a free-to-use site that makes money from advertising. We have a modified experience for viewers using ad blockers

Wikia is not accessible if you've made further modifications. Remove the custom ad blocker rule(s) and the page will load as expected.