Naichin Geeru
Gender

Female

Race

Human

Debuts

Manga
Anime
Naichin Geeru is a nurse from the Penguin Village Hospital who accompanies Yada Naotta.
History
The Birth of Arale
Main article: Volume 1: The Birth of Arale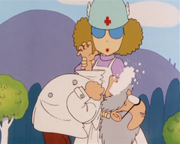 In Dr. Monster, she is with Yada declaring Arale Norimaki death when no pulse was found. When Senbei Norimaki comes by and gives Robovita-A to Arale reviving her, Naichin checks Yada's pulse when he starts foaming out his mouth from the shock and says that he's dead.
Ad blocker interference detected!
Wikia is a free-to-use site that makes money from advertising. We have a modified experience for viewers using ad blockers

Wikia is not accessible if you've made further modifications. Remove the custom ad blocker rule(s) and the page will load as expected.