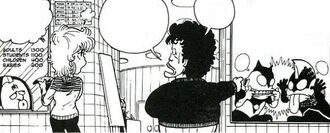 "Nekotoraman vs. Nekotora-7" is the title of a movie in the Dr. Slump universe.
Overview
Senbei Norimaki and Aoi Kimidori see this movie during Arale Norimaki's first day of school.[1] As the title suggests, it features a battle between Nekotoraman and Nekotora-7.
The movie is a reference to the popular Japanese characters Ultraman and Ultra Seven.
References
Ad blocker interference detected!
Wikia is a free-to-use site that makes money from advertising. We have a modified experience for viewers using ad blockers

Wikia is not accessible if you've made further modifications. Remove the custom ad blocker rule(s) and the page will load as expected.