Ogre-king Gyaska
Rōmaji

Gyaska Daimao

Gender

Male

Race
Address
Occupation

King of Wonder Island

Relative(s)

Debuts

Manga
Anime

Voices

Original
Ogre-king Gyaska (Gyaska Daimao) is a demon who is ruler of Wonder Island.
Biography
Ogre-king Gyaska is first mentioned in the chapter "Hello, Wonder Island", and appears in the chapter "". His tears are an ingredient in Senbei's father's Fall-Go-Boom Love Potion. Senbei Norimaki gets tears from him thanks to Arale Norimaki and Gatchan.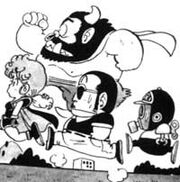 He is seen among the residents of Penguin Village running after Arale and Gatchan in "Penguin Village Dom-Dom-Dom!"
Gallery