Old Woman Spring
Kanji

おばあちゃん春

Rōmaji

Obāchan haru

Alias

Grandma Oharu
Grandma Spring
Ocha-bāsan

Gender

Female

Race

Debuts

Manga
Anime
Old Woman Spring is an old lady that works at Tobacco, a cigarette store in Penguin Village.[1]
History
Dr. Slump
The Birth of Arale
Main article: Volume 1: The Birth of Arale
She first appears in 1980: Living For Tomorrow!, where she is stunned by hearing a robot passing by yelling that spring arrived in Penguin Village.
Arale on the Loose
Main article: Volume 2: Arale on the Loose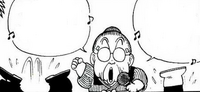 She asks for Gyaosu's microphone to sing in "Barber Shop Panic: Part 2".
Earth S.O.S.!
Main article: Volume 3: Earth S.O.S.!
She is seen in her shop when Arale Norimaki asks her if she sells bra in "Arale Goes on an Errand".
Monsters' Night
Main article: Volume 5: Monsters' Night
The Old Woman Spring sells cigarettes to Kinoko Sarada in "Kinoko on the Loose", thinking it is for the little girl's parents.
Penguin Grand Prix
Main article: Volume 8: Penguin Grand Prix
She also appears in the chapter "Leave It to Akiko". The Old Woman Spring is seen cheering for Taro Soramame, a well known cigarette consumer, in "Penguin Gran Prix, Part 2".
Other Media
Dr. Slump Arale-chan
She appears much more frequently in the anime as a random cutaway in episodes where she is seen eating a rice cracker as a way of exposition.
Dragon Ball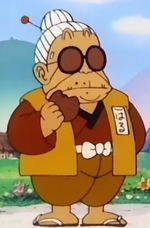 In Dragon Ball, Goku asked her if she seen General Blue, but she shakes her head.
Video Games
Trivia
Old Woman Spring was voted the 11th Dumbest character and 13th Coolest character in the "I'm Number One!" contest held in Dr. Slump volume 8.
References
Ad blocker interference detected!
Wikia is a free-to-use site that makes money from advertising. We have a modified experience for viewers using ad blockers

Wikia is not accessible if you've made further modifications. Remove the custom ad blocker rule(s) and the page will load as expected.