P-Man's fairy
Gender

Female

Race

Fairy

Debuts

Manga
Anime
P-Man's fairy is an unnamed fairy from Wonder Island who follows around P-Man.
History
Wonder Island
She appears in both Wonder Island and Wonder Island 2 accompanying P-Man.
Dr. Slump
The Birth of Arale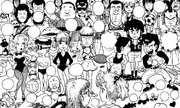 Main article: Volume 1: The Birth of Arale
She appears in Which Will It Be? sitting on P-Man's shoulder who is among a crowd of many of the club captain's of Penguin Village Middle School trying to recruit Arale Norimaki into their club.
Earth S.O.S.!
Main article: Volume 3: Earth S.O.S.!
She appears in the film Dr. Slump and Arale-chan: Hello! Wonder Island.
Ad blocker interference detected!
Wikia is a free-to-use site that makes money from advertising. We have a modified experience for viewers using ad blockers

Wikia is not accessible if you've made further modifications. Remove the custom ad blocker rule(s) and the page will load as expected.