Parzan, King of the Jungle! is the 49th chapter of the Dr. Slump manga.
Summary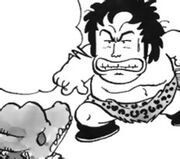 Parzan and Cheeta go to Penguin Village in an attempt to replace Suppaman as its hero. Cheeta is annoyed by the stupidity of Parzan, and leaves him. Parzan replaces Cheeta by a big frog, but the frog leaves him too. Parzan then meets Arale Norimaki and Gatchan. When he sees Arale and Gatcan playing with a bear, Parzan decides to drop his King of the Jungle title and tries to become the King of the Middle School.
Ad blocker interference detected!
Wikia is a free-to-use site that makes money from advertising. We have a modified experience for viewers using ad blockers

Wikia is not accessible if you've made further modifications. Remove the custom ad blocker rule(s) and the page will load as expected.