Penguin Gran Prix, Part 2 is the 95th chapter of the Dr. Slump manga.
Summary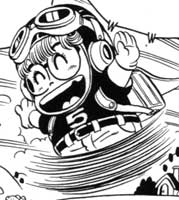 The race starts. King Nikochan and his servant are first until their vehicle stops. Suppaman, Parzan, Kinoko Sarada, and Little Fukusuke are out. Arale Norimaki is first until she stops to play with Nessie. Taro Soramame is now the first, followed by Dr. Mashirito, Senbei Norimaki, and Midori Yamabuki.
Ad blocker interference detected!
Wikia is a free-to-use site that makes money from advertising. We have a modified experience for viewers using ad blockers

Wikia is not accessible if you've made further modifications. Remove the custom ad blocker rule(s) and the page will load as expected.