Penguin Gran Prix, Part 4 is the 97th chapter of the Dr. Slump manga.
Summary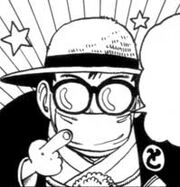 This is the end of the race. Only Peasuke Soramame and Gatchan stayed watching the race until the end. Everybody thinks that Arale Norimaki won, but Akira Toriyama then announces that the winner is himself.
Ad blocker interference detected!
Wikia is a free-to-use site that makes money from advertising. We have a modified experience for viewers using ad blockers

Wikia is not accessible if you've made further modifications. Remove the custom ad blocker rule(s) and the page will load as expected.