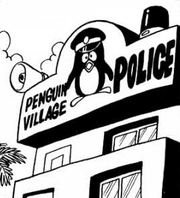 Penguin Village Police Station (ペンギン村警察署) is the base of operations for the Penguin Village Police Force. It is located south of the Sarada Residence, near the Shoes and the Penguin Village Bank.
Video Games
Ad blocker interference detected!
Wikia is a free-to-use site that makes money from advertising. We have a modified experience for viewers using ad blockers

Wikia is not accessible if you've made further modifications. Remove the custom ad blocker rule(s) and the page will load as expected.