Reality Machine
Kanji

現実マシン

Rōmaji

Reality Machine

Alias

Original Replicant

Relative(s)

Senbei Norimaki (creator)

Debuts

Manga
Anime
Remake
Invented by Senbei Norimaki, the Reality Machine is a living, talking, giant electric rice cooker that transforms any pictures that are placed into it into reality.
Overview
Dr. Slump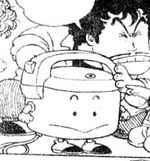 Senbei was originally going to use it to generate a woman out of a pornographic magazine. While someone calls on the phone, Senbei leaves the room with the Reality Machine, so Arale Norimaki puts in the page of the scene and Akane Kimidori puts in a picture of the universe. When Senbei returns, there are multiple copies of things on that page, along with the universe behind them.
The Reality Machine later makes an appearance on the cover of the chapter "Affairs of the Heart!"
Dr. Slump remake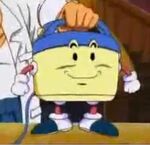 In the Dr. Slump remake, Arale puts the last volume of the Dragon Ball manga into the machine and a black and white version of Goku and Kid Buu fighting each other come out of the Reality Machine.
Gallery
Ad blocker interference detected!
Wikia is a free-to-use site that makes money from advertising. We have a modified experience for viewers using ad blockers

Wikia is not accessible if you've made further modifications. Remove the custom ad blocker rule(s) and the page will load as expected.