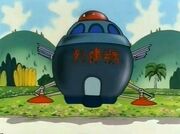 The Reh Tsu Goh (also Reh Tsu Gou, 烈津號) is a spaceship that was originally sent to go into space to the moon but landed in Penguin Village next to the Norimaki Residence where they decided to stay. In remake, their house is red instead of black.
Rooms
Main Room
The main room is the room first seen when entering the ship. It is where it is driven and where the Tsun Family are seen eating.
Bathroom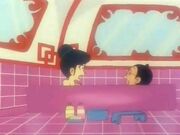 The bathroom is pink and has a Japanese styled bath. It is seen in the episode, "Gatchan You're Great!!" where Obotchaman falls through the roof and lands in the bathtub which Tsuntsunodanoteiyugo Tsun was bathing in at the time.
Tsururin's room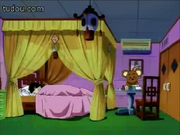 Tsururin's room is just like the other rooms. She have a plush bear and toys in the table.
Residents
Gallery
Ad blocker interference detected!
Wikia is a free-to-use site that makes money from advertising. We have a modified experience for viewers using ad blockers

Wikia is not accessible if you've made further modifications. Remove the custom ad blocker rule(s) and the page will load as expected.