Sad, Sad Santa is the 50th chapter of the Dr. Slump manga.
Summary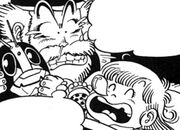 It is Christmas Eve. Senbei Norimaki, disguised as Santa Claus, gives his autograph to the residents of Penguin Village: Arale Norimaki, Akane Kimidori, King Nikochan, Kurikinton Soramame, Kinoko Sarada, and Midori Yamabuki. The next morning, Midori is angry at him for entering her apartment.
Ad blocker interference detected!
Wikia is a free-to-use site that makes money from advertising. We have a modified experience for viewers using ad blockers

Wikia is not accessible if you've made further modifications. Remove the custom ad blocker rule(s) and the page will load as expected.