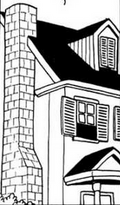 Sarada Residence is a mushroom-shaped house where Kinoko Sarada and her parents live. It is located between the Minefield and the Penguin Village Police Station.
Overview
The house changed its appearance over the years: it is a regular house in its first appearance in "Kids Gone Wild", and it begins its mushroom-shaped appearances in "Kinoko on the Loose". In the Dr. Slump manga, the mushroom cap is mainly dark with light spots on it, while Dr. Slump and Arale-chan and Dragon Ball show the opposite: the mushroom cap is primarily light colored with darker spots on it. The Dr. Slump remake goes back to the manga and represents the house as being primarily dark colored with light spots on it.
Video Games
Gallery
Ad blocker interference detected!
Wikia is a free-to-use site that makes money from advertising. We have a modified experience for viewers using ad blockers

Wikia is not accessible if you've made further modifications. Remove the custom ad blocker rule(s) and the page will load as expected.