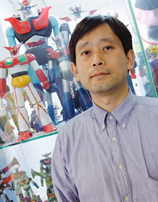 Seiichi Hiruta (蛭田成一) is a Japanese producer.
Biography
Hiruta co-produced Dragon Ball Z, Dragon Ball Z: Broly - The Legendary Super Saiyan, Dragon Ball Z: Broly - Second Coming, and Dragon Ball GT. He was a planner for the movies Dragon Ball Z: Bio-Broly, Dragon Ball Z: Fusion Reborn, Dragon Ball Z: Wrath of the Dragon, and Dragon Ball: The Path to Power.
The name of the main villain from Wrath of the Dragon, Hirudegarn (ヒルデガーン), comes from Seiichi Hiruta, who did not like the original design of Hirudegarn. After he demanded that they redesign the character, his jaw dropped when he saw the new design. The sound effect for a "jaw dropping" in Japan is gaan (ガーン), so they named the character "Hiruta gaan" (蛭田ガーン).[1]
Seiichi Hiruta also did the planning for the Dr. Slump movies Dr. Slump and Arale-chan: N-cha! Love Comes From Penguin Village and Dr. Slump and Arale-chan: N-cha!! Trembling Heart of the Summer, as well as for Gegege no Kitarō: Yōkai Tokkyū! Maboroshi no Kisha, and Tamagotchi Honto no Hanashi.
References
External links
Ad blocker interference detected!
Wikia is a free-to-use site that makes money from advertising. We have a modified experience for viewers using ad blockers

Wikia is not accessible if you've made further modifications. Remove the custom ad blocker rule(s) and the page will load as expected.